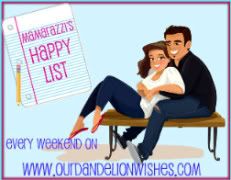 First time linking up for "My Happy List"!
I almost didn't make it, but I really really wanted to post this lol.
I've got alot going on in my life right now. Many things that many don't have any idea about.But, I've noticed over the last year or so, that concentrating on the positive things going on in life makes a big difference =) Sooo here are some of the positive things as of late that make this girl happy:
Plump, Full, sweet baby bellies – make me very happy.
The fact I was able to take Jazereigh to get her little nails done (and toes too!) for the first time, as a late birthday gift, makes me very happy.
(We won't discuss her attitude aftewards, that is besides the point…)
This little girl's silly episodes, belly giggles (the serious giggles that seem to come from way down in the tummy and take awhile to settle down) and blossoming personality – make me very, very happy.
Newborn squeaks, grunts, and yes, even the sweet, little bitty cries – make me happy.

This awesome purse I got from Target yesterday – makes me super duper happy.
I've had my eye on this purse for quite awhile, and I got it on sale for 50% off, which makes me even happier…. It is not super huge, but large enough to fit my wallet, makeup bag, phone, keys, and a couple other things if I needed on one side, and the other side fits a travel wipes case, several diapers, 2 bottles, change of clothes, burp cloth, and even a pullup and pair of pants for Makayla (in case there is an accident), and it doesn't overstuff it! I can even fit my camera in there if I wanted to, wouldn't bring an extra lens though. I hated the idea of carrying around a purse and a diaper bag, and all of the cute diaper bags I found that would work as a double were much bigger than I wanted.  So YAY for getting this perfect solution – ON SALE!
Now, it would really make me happy to get this one on sale, hehe.
Knowing how lucky I am to be the mama to these sweet girls…
Makes Me Extremely Happy =)