It's Tuesday, which means it's Happy List Day!
It's also February 14th, which means it's Valentine's Day!
So, I'm combining posts. Hope ya'll don't mind
Linking up with Mamarazzi for Happy Lists <3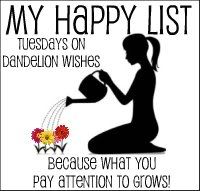 Today, I am happy that there were no disappointments.
I didn't expect anything, yet I got some handmade goodies
from my Jazzy, so that was a bonus.
Today I am happy that my washer/dryer set came.
Ah yes, how beautiful it is. This is what it looks like-

I just don't wanna show you the real set yet because my laundry room is a disaster, but I will share it someday. But this is the first set I have officially owned, 100%. It's mine. all mine. I didn't finance it with the company. I didn't put it on a company credit card, or my credit card, or "rent to own it". I paid for it completely, so therefor it is completely mine. This is an exciting day, let me tell you! AND I got the set $400 off, awesomesauce…
Today I am happy that I was brave enough to slap on a headband and I think I actually pulled it off. I've never been a headband wearer, always a wanna-be, for real. But saw this baby at Old Navy when I bought the shirt and was like "Ya know what? Why not?" So what if I was sportin' it with a mommy bun? Don't judge me….
Today I was happy that I had the chance to attend Jazzy's Valentine's party at school. Lots of moms don't have that luxury. It was fun, the parties usually are, and Makayla loves that she gets to "go to school with Jazzy".
They read Valentine's books.
They had Valentine's snacks.
They decorated Valentine's Cookies.

The kids got to open Valentine's mail. It was a surprise, they had us parents mail the kids a card to the school for the "mailman" (the principal) to deliver. Pretty cute!

Jazzy read her card all by herself, I was so proud!

Makayla ate a rainbow cupcake while Jazzy opened her Valentines from her school friends.

Jazzy and her best friend Zoey, aren't they cute? Then she made doorhangers, which she surprised Makayla and I with when she came home, she made one for both of us too, so sweet!

Yea, we're pretty awesome.

And they are pretty awesome.

I am happy, and a little bit sad, that Dazlynn had her very first Valentine's Day! Isn't she a cutie?

I am happy that I finally got around to updating my facebook cover photo. Til today it still said "Happy Holidays" haha…

Ah yes, a pretty good day indeed!
What about you? How was your Valentine's?